A few examples of my copywriting work
Multiple marketing materials for Ridgeway Science
Client: Ridgeway Science
Agency: LimeGreen Marketing
Background: Ridgeway Science makes a test kit, P4 Rapid, that confirms if a cow is in heat. Because it's so accurate, quick and easy to use, P4 Rapid saves time and money for vets and farmers. However, sales of the kit were not as good as they could be.
In 2014 Ridgeway Science took on a new head of global sales and marketing, Cheryl Barnes. Through LimeGreen Marketing Cheryl updated all the marketing materials for P4 Rapid. As I'd worked with Cheryl before she introduced me to Katie at LimeGreen so I could write the copy.
What I wrote: Website, leaflet targeting farmers, leaflet targeting vets, sales letter to vets, packaging materials, three video scripts.
What they said: "If you need help with words, then you need Sarah! But then most businesses need Sarah in my opinion. She's the best copywriter I've worked with by miles and has an incredible knack for getting under the skin of a business and finding exactly the right words to sum it up and promote it to potential / existing clients in a compelling way. No business should be without a good copywriter and Sarah is the best. HIGHLY recommended. Get in touch with Sarah today. You won't regret it!"
Cheryl Barnes, Head of Global Sales & Marketing, Ridgeway Science
Website for 4 Sided Triangle
Client: 4 Sided Triangle
Background: 4 Sided Triangle was a network of freelancers operating as a virtual agency. Although the network isn't active at the moment I've included this project as it worked so well – in part because I was able to work closely with a brilliant designer, Tim Masters. Together we developed the look and feel for the site.
What they said: "I wanted to let you know what great feedback we have had on the site so far and I've just put the phone down to another person – the third in three days – who has specifically commented on how much they like the tone, language and message."
Andy Ormiston, Director, 4 Sided Triangle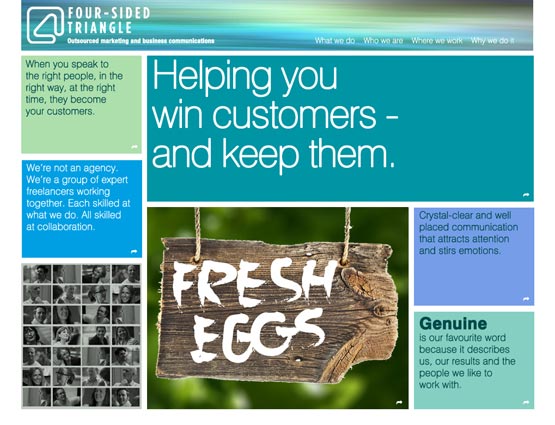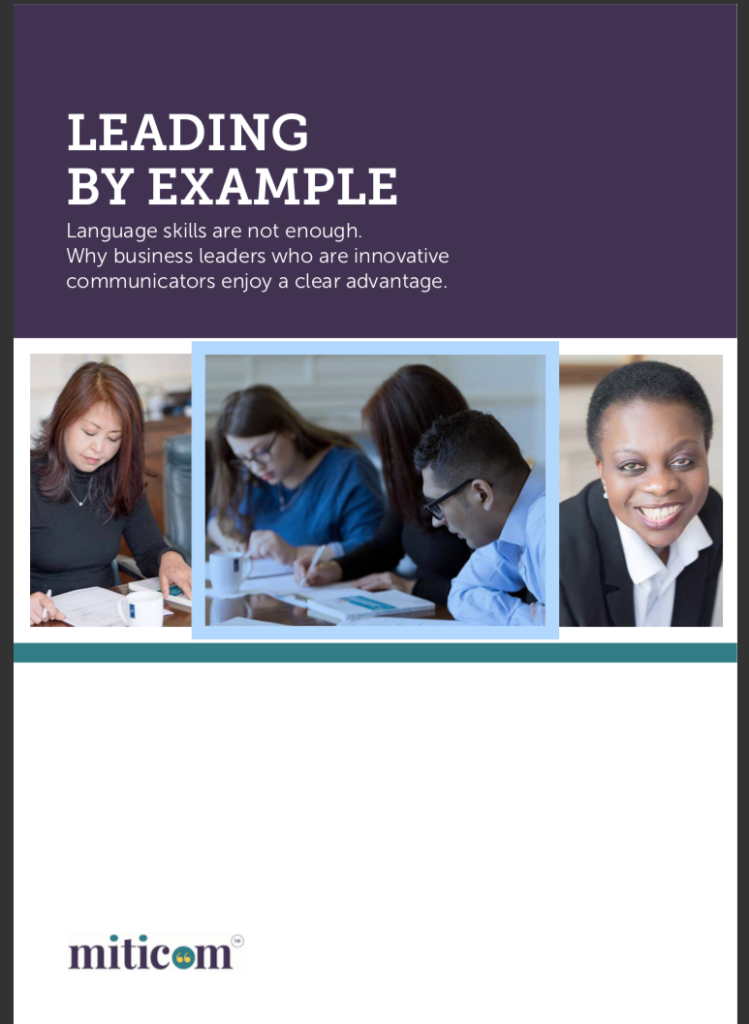 Download report for Miticom
Client: Miticom Ltd
Background: Miti Ampoma is an award-winning business communications professional. She is also author of the acclaimed business book The Innovative Communicator: putting the soul back into business communication. 
Miti helps business leaders and aspiring business leaders communicate in English with confidence, impact and presence, even when English isn't their first language. And she makes clear the benefits you reap when you put integrity and humanity at the heart of your communication.
Miti wanted a report she could send to prospective clients to explain what she does, why she does it and the advantages they'll enjoy after completing her Innovative Communicator Accelerator Programme.
Miti was an absolute joy to work with. We planned the content together, then I wrote it, taking inspiration from her book and the reference material she provided. Pete Seymour from Seymour Creative did the design and layout, including all the infographics.
You can see a few pages from the report here.
What they said: "You really get me, for which I'm immensely grateful. You're a great writer. It's just what I was hoping for."
Miti Ampoma, Miticom Communications Training
Sales letter for The Perfect Practice
Client: The Perfect Practice
Background: I met Gordon Sealey of The Perfect Practice when I ran a training course in Bristol in 2013. 18 months later Gordon got in touch and asked me to write a sales letter for his new company.
What they said: "Sarah was an absolute delight to work with – very professional, knowledgeable, timely and helpful – and the result of her efforts was an excellent piece of work that had the desired impact on my prospects."
Gordon Sealey, Director, The Perfect Practice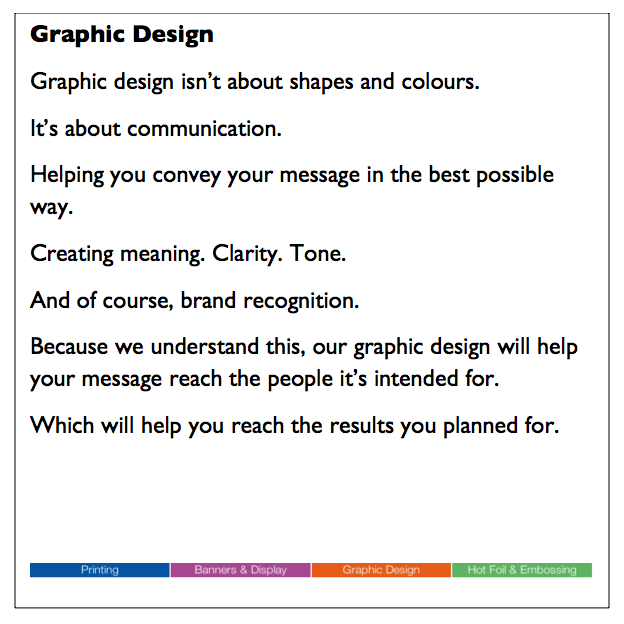 Brochure for Infographics
Client: Infographics
Background: Infographics are a print and design company. They wanted a new print brochure to show what they do and why they're one of the leading printers in south Wales. The pages here are what I wrote to describe their different services.
What they said: "Really good. I like the style and tone very much."
Liam Sullivan, Director, Infographics
Position statement for Cloudfinity
Client: Cloudfinity
Background: Cloudfinity were referred to me by an existing client. They were a new cloud-based IT provider seeking investment and wanted to capture what set them apart, how and where they would fit in the market. The director was so pleased with the statement he swore, so I won't repeat what he said here!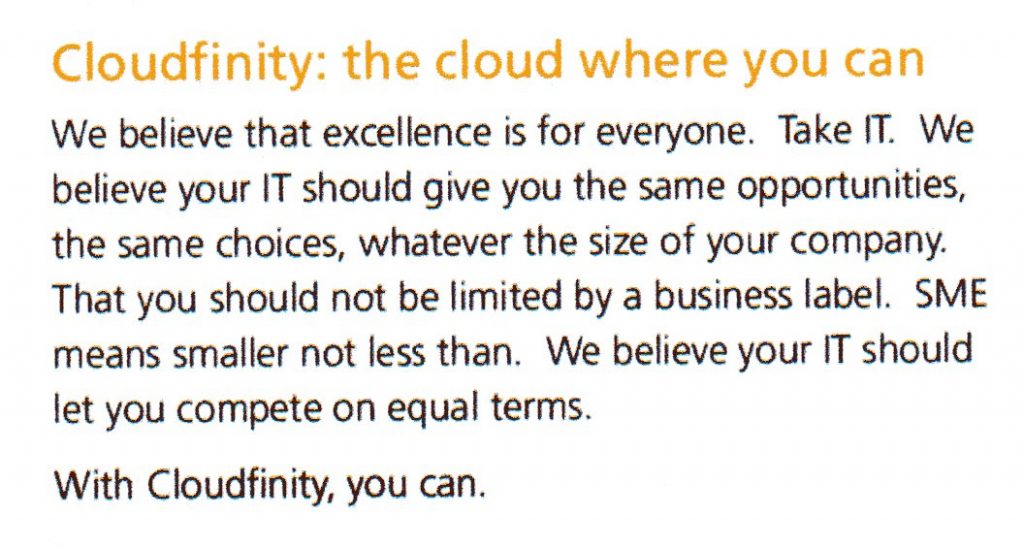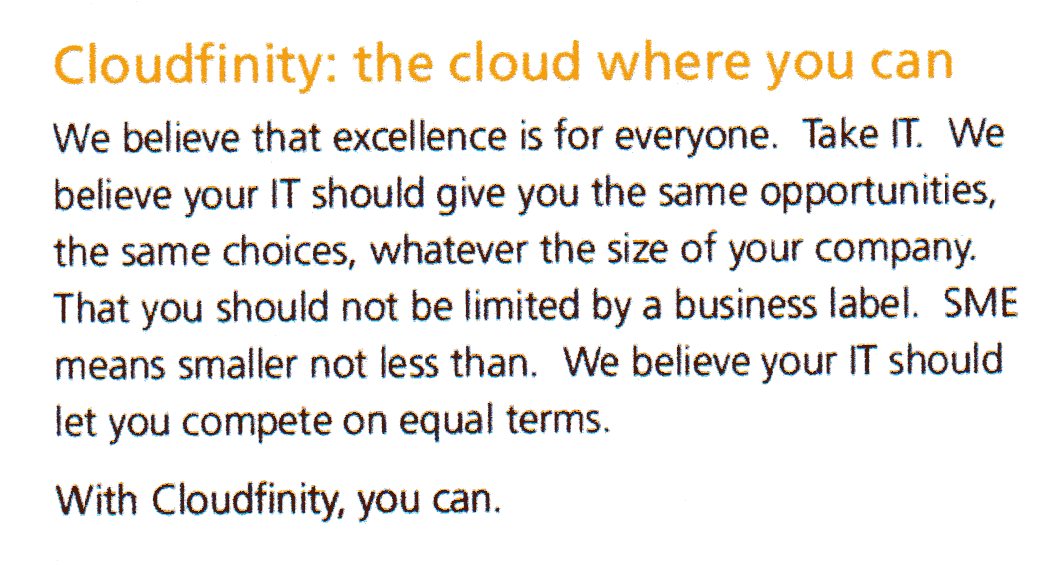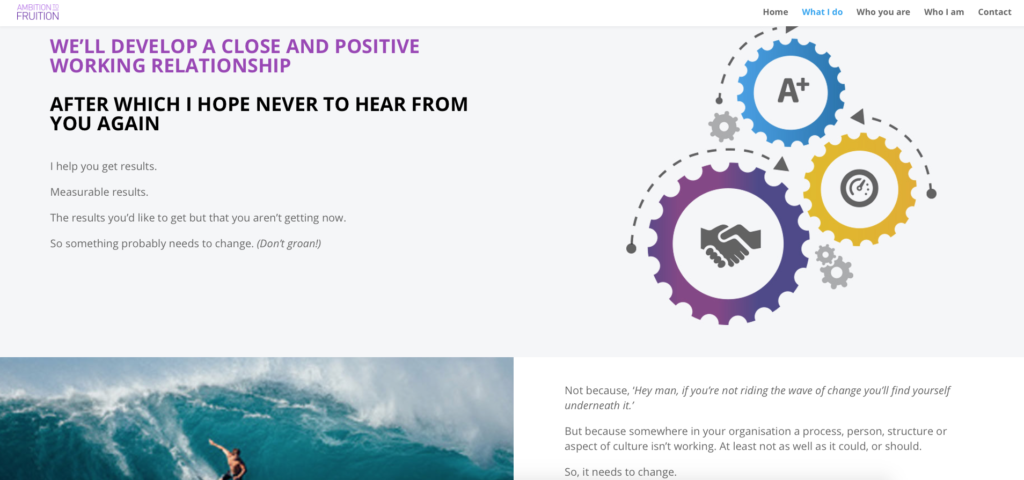 Website for Ambition to Fruition
Client: Lynne de Motte
Background: Lynne is an amazing woman: strong, funny and clever with an incredible work history. She's really clear about how she likes to work (in a very focussed and professional way but with room for some laughs) and who she wants to work with (people who are driven but appreciate the value of humour), so wanted her copy to reflect this. I had a free rein to be bold and challenging, which was challenging in itself but a lot of fun.
What they said: "Working with Sarah was a great experience. Sarah can take a complicated brief and turn it into an action focussed copy. Sarah combines, skill, humour and patience with a professional approach. Do not underestimate her listening skills, if you are prepared to invest the time she is prepared to invest with you – you might get more than just great copy… a fresh look at your business and a contact I would like to call a friend."
Lynne de Motte, Executive Coach and L&D Professional, Ambition to Fruition