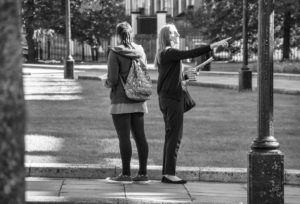 How do you know where to find the best words?
Copywriting lessons for people in a hurry
The best copywriting lessons are often free. Lots of writers, including me, will advise you to read widely because you can learn from other people and use their writing to improve your own. But how do you know what the best copywriting looks like? And where can you find it?
From now on, whenever I come across great writing I'm going to send it your way. First up is PolicyBee, a professional indemnity and business insurance broker.
I've admired this company since 2011, when I first bought a policy from them. They're in a complex industry, yet the way they communicate is always clear. They use plain English to make what can be a dry and tricky subject easy to understand. And they manage to inject just the right amount of personality so both their friendly nature and expertise shine through. Have a look.
What you can learn from PolicyBee
A quick read of PolicyBee's website will help you see the difference well-crafted copy and plain language can make. It doesn't matter whether you're selling a product, a service or an idea. When you speak to people in language they use themselves it's more likely they'll understand you.
And when your readers understand you, you can connect with them and keep them reading.
PolicyBee's home page is a good example of this.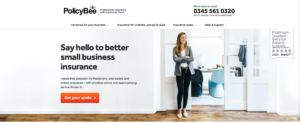 It very clearly shows they provide small business insurance. And then it adds detail to this by saying freelancers, sole traders and limited companies. So you can immediately see if the insurance they sell is right for you. If it is you're hooked and compelled to find out more. And if it isn't you can leave the site without wasting any of your time.
Why you need more than great words
The great choice of words on PolicyBee's home page is perfectly supported by its excellent layout. They've used plenty of white space and strong contrast – black text on a white background. This makes the page clean and clear and a pleasure to read. The woman in the image has a warm smile and is looking straight at the camera so you can't help but look back at her and feel drawn in (although it would be even better if her arms weren't folded).
Feel free to take inspiration from others
When you're stuck for words and struggling to find a way forward with your writing, you don't have to be completely original. Have a look at what other people are doing and see what you can learn from them. Even if you don't like some of what you see, you'll end up with a clearer idea of what you do want to say, and how you want to say it.
Look out for more examples in my 'Copywriting Lessons' series. They won't all be websites but everything I share will be well-written and worth learning from.
See you again soon.
Hello. I'm Sarah Russell, a freelance copywriter from near Cardiff in south Wales.
I can help you say hello to better copywriting.
Call me on: 01873 776 153
Email me at: info@sarahrussellwriting.co.uk
Connect with me on: LinkedIn
Thank you for reading my blog. I hope you found something in it to help or inspire you, or to make you smile. Please feel free to share it.