And get people through your door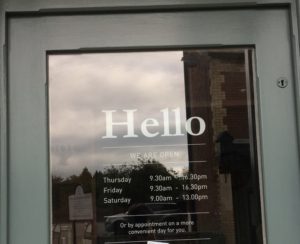 This is the door for Blackbarn Flooring, a shop in the town near to where I live.
The shop stands out on the street because of its lovely tone of voice. That 'Hello' is immediately friendly and welcoming, just like Hannah and Dan, who own the business, are in person.
Hannah and Dan are great communicators and understand how to market their business in a small and close-knit community. In a town where everyone knows each other, their 'Hello' feels natural.
Although their warm and open style works just as well with visitors. If you're new to the area or are just passing through, that single word hello is a touch of welcome familiarity.
It's clever too, because it invites a response. When someone says hello to you it feels rude not to respond. I often say hello back when I walk past.
So Hannah and Dan's hello can stop you in your tracks, just for a second, but long enough for their window displays and latest offers to catch your eye.
You probably don't expect to see hello on a door either. This element of surprise, alongside the easy familiarity, is hard to ignore.
How much can one door actually do?
Hannah and Dan juggle running their business with raising a young family. So they don't open the shop every day.
Their magic door is clear about when they are open though. And if these times don't suit you, they offer to make an appointment to open for you at a time that does (their telephone number is on the door but I cut if off with my poor photography).
Five things about tone of voice you can learn from Hannah and Dan
Tone of voice is how the character of your business comes through in your words – the impression they make on the people who read or hear them. It's not so much what you say, as how you say it.
So, learning from what Hannah and Dan have done:
Write as you'd speak. The first thing we usually say when we meet someone is hello. It's familiar and instantly creates a connection. Hannah and Dan do this straight away, on their door.
Be positive. Hannah and Dan follow their hello with 'WE ARE OPEN.' This is a positive way to say when they open, rather just displaying their opening times or perhaps heading them with a less positive phrase like, 'We're only open.'
Be honest. For example, people usually expect shops to open six days a week. If you're not, say so and be clear about when you are open.
Speak directly to the person who's reading your words. This is easily done by using the word you, as Hannah and Dan do when they offer to open 'at a more convenient time for you.'
Be helpful. Hannah and Dan recognise their opening times may not be convenient for everyone so offer to open at different times, by appointment. This shows how they value their customers and makes the door less about their business and more about the people they're trying to attract.
With just a few words Hannah and Dan let you know they're friendly, helpful and willing to go out of their way for you. It's more than some large companies manage to do on an entire website.
And they do it all on a door.
Hello. I'm Sarah Russell, a freelance creative copywriter.
My opening hours are normally 9 – 5, Monday – Friday, although I sometimes sneak out if it's a particularly lovely day. If you do the same and would like to talk about your copywriting needs at a different time, drop me a line. I'm sure I'll be able to help. 
And thank you for reading my blog. I hope you found something in it to help or inspire you, or to make you smile.
Email me at: info@sarahrussellwriting.co.uk 
Call me on: 01873 776 153
Connect with me on: LinkedIn 
You're welcome to share this blog