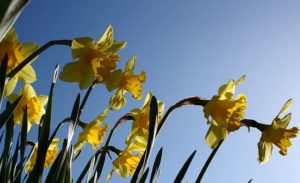 How you can write killer copy when you follow the first rule of comedy
It's mid-February in the UK. We've just had a long period of freezing, wet and windy weather. As happens in this country, the wintry weather at times brought everything to a standstill and the language of the weather forecasters became increasingly frenzied.
But today, as yesterday, it's sunny and warm (ish). Almost balmy. The air is soft and sweet-smelling. The sky is a gentle shade of blue and everywhere is punctuated with bright pops of yellow and purple from the daffodils and crocuses.
Of course this is the UK, so, like last year, we could easily start March under three feet of snow. But right now spring is definitely springing and it's hard to think we could ever feel cold again. I'm sure it's not just this winter that's behind us but every winter.
So how do you think I felt when I read these words in my inbox this morning?
Get ready – the snow is coming…
You what? It's not! Carol just said we were in for a spell of settled weather. I'm planning a weekend in the garden. Snow is over, so yesterday, we've moved on.
Those six little words made me feel sad and a little angry. I wanted them to get out of my inbox and take their tale of gloom and doom with them.
But it got worse. When I opened it, the email went on to say:
Beat the freeze this month
We already have! Look out of your window for goodness sake! It's a gorgeous day.
Your how to write killer copy lesson here is the same as the first rule of comedy. Timing. It's everything.
Had I received this email a fortnight earlier I may well have opened it with interest and with one hand already reaching for my credit card. Then it was relevant and would have felt helpful.
Today it felt doom-laden and negative. It took the edge off the joy of such a beautiful day.
I guess the email was set up as part of an automated campaign. In principle, sending an email about snow and ice in mid-February is a perfectly good idea. But this is where automation breaks down. Weather is fickle. You can't tell too far ahead what it's going to do.
So don't just set up your campaign and then leave it to run. Keep an eye on what is going on around you. On things that can change quickly, like the news, or the weather.
If the company had sent me an email with an offer related to getting outside, to sorting out the garden or clothes for warmer weather I would have been hooked. Yes, it is a gorgeous day. Let's look forward and celebrate with something new. The last thing I want to do on a day like today is remember that this glorious weather could be short-lived and by this time next week we could all be sledging again.
Compare the subject line about the snow with this one I received later this afternoon:
Easter – like today but warmer, even sunnier and more holidayful
Excusing the slightly clumsy phrasing (a simple tweak so it reads, Easter – like today but even warmer, sunnier and more holidayful makes it flow much better) this made me smile – and not just because of the lovely new word holidayful. It's what I wanted to hear. A day like today but even better? Yes please! I'll have some of that.
To get your readers saying yes please. To get them opening your emails with happy anticipation, don't just think about what they want to hear. Think about what they want to hear today.
Because things change. So the perfect line you write today could fall flat tomorrow. Unlike the stand-up comedian dying on stage, you won't hear the deafening silence when your line falls flat, but your pocket will.
Hello. I'm Sarah Russell, a freelance UK copywriter from near Cardiff in south Wales.
I can bring sunshine into your life. I'll write killer copy for you that will first attract the right customers and then sell to them.
Call me on: 01873 776 153
Email me at: info@sarahrussellwriting.co.uk
Connect with me on: LinkedIn
Thank you for reading my blog. I hope you found something in it to help or inspire you, or to make you smile. Please feel free to share it.